…is an amazing and wonderful modern invention and there is no reason why boaters, sailors and yachtsmen should not take advantage of the buying opportunities available within the "Worlds largest marketplace". But what should you know before considering buying a boat on eBay?
First, you should know that it is no longer an odd occurrence to complete a major purchase on eBay. This online auction venue has turned the corner from being a novelty. eBay outsells General Motors and Walmart combined and people are not just buying beanie babies on eBay. An automobile is sold every 60 seconds on eBay Motors and over 100,000 new buyers are seeking their dream items on eBay every day.
With 200 million registered users, eBay has become mainstream throughout the world. eBay Motors is the site where boaters will find anything marine related, including their dream boat.
How does this eBay revolution help the average boat buyer?
As a buyer you have unprecedented access to comparison pricing.

You are in control as a buyer, only bid what you are prepared to spend.

Photos included in eBay auctions are much more descriptive than a newspaper classified advertisement.

As a buyer you gain knowledge, which is power in negotiations.
How to Find Boats on eBay Motors – eBay Search and Browse Basics
Before beginning, know the basics of how to find items on eBay.
Try the following links to get you started:
Browse – See all the boats of interest.
To find all the boats of a particular type – start from the Boats page. Click on the boat type of interest in the category list. This will take you to all of the listings for that particular type of boat. You can then sort by price by using the column header. Click again to reverse the sort. Search – Narrow or broaden your list of results.
To narrow the list of boats in your results, use search terms. Search is best used once you are already in the Boats category, because then you'll only receive boat listing results, and not boat parts or other items.
The easiest way to do this is to use the "Basic Search" box on the left- hand side of the listings pages. Please note that using this search box will ONLY search within the current category displayed; e.g., if you clicked "Powerboats" from the Boats page, the search will only look within the "Powerboats" listings.
Advanced Search
If you want to broaden your search to find all boats that match a model name, year, or other criteria (e.g., "pontoon"), use advanced search. This allows you to customize your search in many ways.
For example, you may select to only search within specific price ranges or regions. Additionally, you may choose to exclude certain terms to further narrow your search. You can even search simultaneously on several different models and/or boats with any of a collection of characteristics. To do so, specify ALL of the terms on which you want to search, select "Any of these words" from the drop down menu next to the "Search" button. Please note that you need to select "Other Vehicles" from the "Search in categories" drop-down menu to avoid searching in other eBay Motors categories (such as Parts).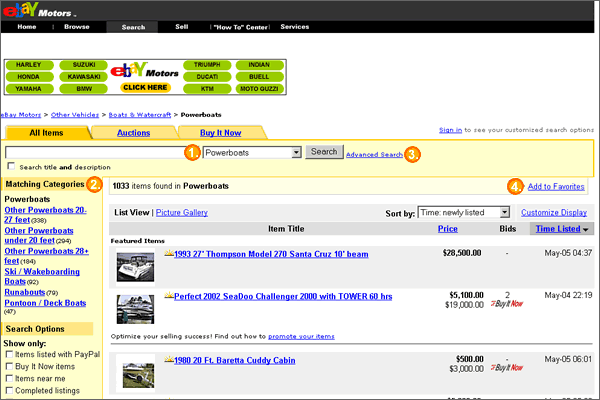 Search "only in Powerboats" Get results only from the specific sub-category of vehicles you want.
Matching Categories. Drill down in to the specific sub-type of interest.
Advanced Search. Takes you to Advanced Search.
Save this search. Get results you want without having to retype your search every time.
To check on your saved searches, click on the "my eBay" link at the top of every eBay Motors page to go to your "my eBay" page and then click on the "Favorites" tab at the top. Alternatively, have your saved searches sent to you via email when new listings are added by selecting this option when you save your search.
What should the boat buyer look out for?
Learn about the boat
Read the description thoroughly.
The description is the seller's chance to elaborate on all the details of the boat – the condition, terms of sale, any guarantee, etc. Some descriptions are better than others, and the best sellers will be very thorough. If you have a question that isn't covered in the description, contact the seller (use the "Ask seller a question" link at the top of the listing). Don't wait until the end of the auction. Also, be aware that many Sellers do not want to negotiate the price or reserve price (after all, that's what the auction marketplace is for), but do want to answer any questions that you have.
Assume the boat is sold in "as is" condition.
Make an independent assessment of the condition of the boat and again, contact the seller with any questions about condition before making an offer. Be realistic in your expectations of used or older boats – expect normal "wear and tear".
Ask questions.
If you have a question, click "Ask seller a question" link at the top of the listing and write him or her an email. This is a great way to learn more and get more comfortable with the boat and the seller. The more specific you can be in your questions, the more helpful the seller can be with his or her answers.
Learn about the seller.
Know your seller and review his/her feedback rating. Check the seller's feedback rating for positive comments and to see if the seller has sold similar items in the past. If you cannot reach your seller, or you seller is inaccessible by email and/or phone, do not try to buy the boat until you are able to make contact and the seller addresses your questions to your satisfaction. By eBay policy, if you are unable to reach the seller during the course of the auction, you may retract your bid once it has been placed.
An important note for the buyer about feedback:
Feedback is a critical part of buying and selling on eBay. It provides important information to buyers and sellers about the people with whom they are transacting. As such, it is one of the most powerful ways to build trust and a reputation on the site. eBay asks everyone to participate in giving feedback. However, as with any open and essentially un-policed system, there are occasionally people who take advantage of it. Sometimes, there are misunderstandings or hurt feelings, and in rare cases, buyers or sellers will hold the threat of leaving negative feedback as a way of getting more than is fair. For this reason, you should look at every seller's complete feedback history, and not necessarily rule out someone with a few negatives. The same goes for sellers just starting out who have no or very little feedback. Everyone has to start somewhere, and every one of our best sellers (and buyers) started with 0 feedback once upon a time. Give them a chance, but again, make sure to talk to the person so that you can form your own opinion.
Know what you can afford, and the total costs.
Determine guidelines for what you are willing to pay. All bids on eBay are binding so you should make sure that you know how much you can afford first. Look at final prices on other eBay Motors listings for similar boats by looking at Completed Items from search results (use Advanced Search and select "Completed items" from the "Item Status" drop-down menu; also select "Other Vehicles" from the "Search in categories" drop-down menu). If a boat is selling at a price far below fair market price, use extra caution as to the nature of the transaction.
Know your total costs and how you'll cover them.
Make sure you consider all the potential costs such as: Title & Registration, State Taxes, and any shipping costs. Refer to your state guidelines on taxes, title and registration. If the seller isn't local, make sure you know how you will pick up the boat or how you will arrange shipping if you are the successful buyer (typically, sellers can help arrange shipping, but buyers usually pay for it).
Shipping.
Get quotes for shipping from DAS who ships boats, RVs, and most other vehicles. If you are depending on a loan to purchase the boat, make sure you thoroughly understand all the lender qualifications such as applicable makes/models, type of seller (e.g. does your lender loan on boats bought from other individuals?), etc.
Bidding over $15,000?
Be sure to have your credit card on file first!You are required to have a credit card on file with eBay if you bid more than $15,000 on an item. You will be notified when you bid, so allow yourself some extra time if you are bidding in the last minutes of an auction. Your credit card will not be charged – but is used to confirm identity – a safety measure to help protect both buyers and sellers from potential high bidding fraud.
Learn about what services eBay Motors offers to protect you.
The feedback system helps you safeguard yourself against disappointing transactions by showing you the seller's (or buyer's) feedback record and enabling you to choose with whom you transact. However, what happens if something still goes wrong? eBay and PayPal provide some limited insurance that may come in handy. Click here to learn more.
For additional information on what to do if something goes wrong and to learn about constraints for filing a complaint, click here
Sources :
,allbusinessauctions.com, voyagersupply.com
boat, boating, yacht, sail